Relaxation Slippers
Premium Indoor Slides
🚚 Free shipping on orders $75+ & free returns 🚚
✨ 100% Happiness guaranteed ✨
Welcome to the shoe-free home movement. When you set the intention to take off your shoes inside, your home will thank you. A shoe free home embodies a peaceful sanctuary, empowering you to upgrade your lounge look and reclaim, curate, and share the experience of your sacred space 🧑🏽‍🤝‍🧑🏽
We're not your average slipper. Cushion your feet while cooking, working, or lounging to experience and share healing energy 
Low maintenance, high vibe. Our machine washable slippers fit as perfectly in your life as they do on your feet ✨
House slippers are an ancient practice in Turkey, where our slippers are made at a family-owned factory in operation for 60 years. We support the country's economy and tradition as we share it with you. 
New and improved light peppermint oil infusion to offset body odor and keep things fresh ❄️
True to size, but we recommend sizing up if you're unsure.
Not into it? We love our Terreliques, and think you will too. If you don't, return within 7 days for a full refund. 
Exchanges are accepted within 7 days. Slippers must be unworn and in original condition.
Made in Turkey at a family owned factory in operation for 50+ years
Material: PVC (recyclable)
Why go shoe-free?
Reclaim Your Space
Set the intention to leave your shoes at the door and fully reclaim your sacred space
Turkish Design
Our unique, patented Turkish design celebrates the ancient Turkish tradition of a shoe-free home
Colors for Every Mood
Versatile color palettes bring back the fun of dressing up from head to toe - at home!
Featured In
Customer Reviews
08/01/2020
Lauren K.
United States
Better than I expected!
I saw an ad for these on IG and wasn't sure if they would actually be as nice as they look online, but honestly they're even better in person. I bought the bright pink color and love them. I've gotten so many compliments from friends who have come over. My friend actually just ordered the white ones for herself and I'm thinking they could be a good gift for my sister's birthday coming up. They are so fun and playful but also comfortable and easy to clean. I'm so happy with my discovery!!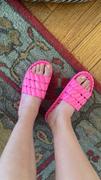 08/01/2020
Livia R.
United States
Chill at home life
I've been spending so long at home recently, I was missing wearing cute shoes out. When I saw my friend's terrelique's, I got really jealous and ordered some the same day hahaha. Anyway, they feel really high quality, fit perfectly, and seem like they're going to last awhile. So happy I picked these up for hanging at home.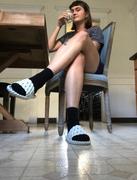 08/11/2020
Corinne V.
United States
amazing quality house slippers
my partner converted me to a house slippers person. We use them to track let us dirt into the house, but also sometimes around the backyard too. Ordered these on a whim and they're perfect! Y'all, literally, I threw our old house slippers into the trash; they just don't compare. It took my feet a couple days to get used to the texture, but now I'm genuinely excited to slip them on. They were a bit perfumey when they first arrived, but the smell faded in a day or two. TL;DR buy these for your tootsies
07/22/2020
Sarah T.
United States
Great for asian household
My korean gf wants me to not wear shoes in the house so I bought these for myself. Think I'm gonna buy her a matching pair
08/01/2020
Suzy T.
United States
Too expensive
I'll admit the quality is nice but I can get cute sandals for $25 at my local payless